WHAT IS THE COUNTER
 Ⓡ 

?

THE COUNTERⓇ was born as a hamburger restaurant in Santa Monica, California in 2003, offering custom burgers with over a million varieties.

THE COUNTER was ranked in the American GQ magazine's list of "20 Hamburgers You Must Eat Before You Die" and afterwards, introduced as a "New Style of Unique Hamburger Chain" in the ZAGAT SURVEY 2011, the best restaurant guide in America. It's been loved by lots of fans, mainly in America where hamburger were invented.

THE COUNTERⓇ thinks creating a custom burger is the same as life experiences and wants you to "learn, be inventive and have creative thinking" through the hamburger and enjoy them.
This is our original thought when we made THE COUNTERⓇ.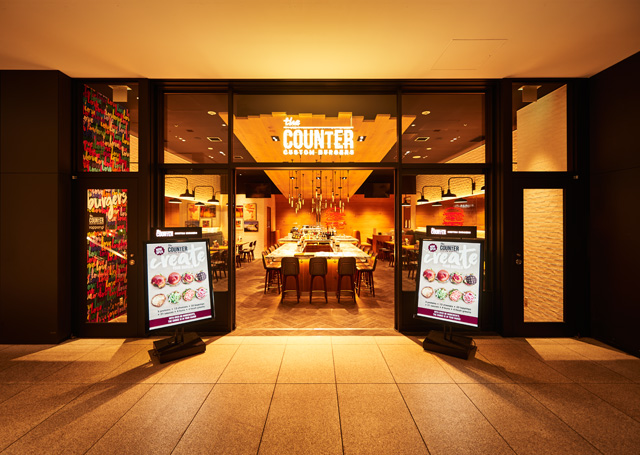 STYLISH AND INTERNATIONAL
Stylish and international
ambience reminiscent
of the trend capital of L.A.
A restaurant with stylish and trendy ambiance incorporating elements of wood, opened in Tokyo Midtown B1, which is directly connected to the underground walkway from Roppongi station on Tokyo Metro Hibiya Line.
The glass façade has a shiny logo to attract people walking by. At the bar counter inside, we offer you a variety of drinks including craft beer.
It is an unusual full-service hamburger shop and matches the busy city where celebrities, families and office workers from all ovet the world are walking by. And also the shop provides that simple and cozy international ambience.
There is a park near by, so get a hamburger on a sunny day and enjoy a picnic surrounded by nature.